---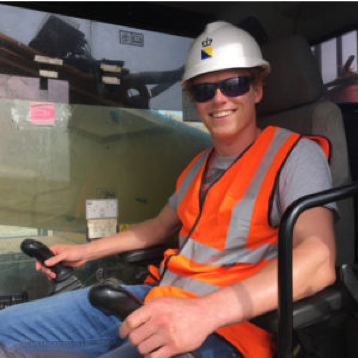 Abbe de Jonge is currently in Qatar on his final assignment as Trainee Project Controller with Boskalis, after a year working on projects in Mexico, Nigeria and Abu Dhabi. He has also had time for his hobbies: outdoor sports and travel. "I've been to Guatemala, Belize, and Cape Town," he says. "I haven't seen much of the Netherlands in the past year!"
Abbe's first assignment was in Mexico City. His tasks included work on consolidation and financial reporting for various projects throughout Central America. "I learned very quickly about our inter-office accounting methods and systems," he says.
His second assignment was to a project in Nigeria where Boskalis created a new harbour and breakwater. "This was my first direct experience of an actual project," he says. "During this assignment I really gained insight into what the abstract budget numbers mean and how projects are organized in general."
Abbe went to the Abu Dhabi office prior to Qatar for his third assignment. "I joined the Financial Shared Service Center to learn about the bookkeeping systems and to do preparatory work for a joint venture project in Qatar," he explains. "During this project, I assist the Finance Manager with setting up the administration, monitoring budgets and the financial reports."
"If you're looking for variety, want to learn quickly and experience things first-hand, the traineeship at Boskalis is perfect", says Abbe. "Where else would you get the opportunity to work in different countries around the world, learn a lot in a short amount of time and to combine this with your hobbies?" Abbe found it surprising – and motivating – to so quickly be given responsibility for tasks and totally immersed in the work. "You're immediately part of the team," he says.
Interested in the Boskalis Traineeship? Check the careers site for more information and apply before February 24th, 2020.
---
    This blog is sponsored by:
---